B-H Cup Oil-Free Breastplate Capillaries 8G
The 8th generation of prosthetic breast production process is comprehensively upgraded, with new airbag filling design and lighter breastplate; bionic breast structure design, which looks more realistic.
🎁 Extra 10% OFF Code:
SAVE10
---
Regular price

$199.00

Sale price

$199.00
SHIPPING

For US client, the items in our US warehouse we will deliver within 2~7 business days after shipping. Most items are in our warehouse in Commerce, CA, USA.




For non-domestic orders outside the United States, shipping time depends on destination and courier, Shipping costs depend on distance and weight of the item. For more information, see shipping costs on the checkout page.

The following is the estimated shipping time. 


Be sure to leave your correct address, zip code, mobile phone number (not a landline phone number), and the recipient's name (must be 2 or more words, not shorthand). We use Post Service or E-PACKET by default in standard delivery. Please note that the shipping time doesn't include 2-7 days processing time.
 

Location

Shipping Time

United States

3-7 Business days
(Import Tax included)

Korea, Japan
Singapore

3-5 Business days
(Import Tax included)

Canada

5-10 Business days
(Import Tax included
Item < 10lbs only)

Europe
UK

5-10 Business days
(Import Tax included)

Australia
New Zealand

7-15 Business days
(Import Tax included)

All other
Countries

Over 15 Business days



After shipping, you will receive an email with your tracking number once your order ships. If you haven't received tracking info within 7 days, please contact us. Affected by Covid-19, there will be some delay on the delivery.

When the courier is being delivered, please pay attention to the tracking information and receive the package in time, otherwise the courier will be returned or destroyed. 

If there is a problem, we will contact you by mail, please add kumihocrossdress@gmail.com to your address book.

There are no sensitive information on your package, don't worry about privacy issues.

If you have any question please feel free to contact us.

E-Mail Address: kumihocrossdress@gmail.com
Website: 

https://kumiho-crossdress

.com
PAYMENT

Our store supports credit card payments (Visa/Mastercard/Maestro/Discover/American Express/Diners Club/JCB) and PayPal payments. If you do not have a PayPal account, please click the second option to pay by credit card.

If you your payment could be somehow denied at the checkout by our system in defense against possible credit card fraud. It's a good idea to call your credit card company or bank ahead of time to let them know about the purchase so that it doesn't get declined.

Under such circumstance, here are 3 solutions for you:

1. If you have a PayPal account, please try to pay by PayPal.

2. If you do not have a PayPal account, please select PayPal still at the checkout page & click the complete order button. Then you'll be directed to a page with access to both PayPal and Debit/Credit card payment (for the latter option, you don't have to register for PayPal).

3. Please switch to your other credit/debit cards.

As following steps:

 

When you see the 'complete payment' option, click on it to continue - PayPal is actually the only payment option available currently :)

When you see the Paypal login prompt, scroll down and choose to 'pay with Debit or Credit Card'.

Keep the currency as USD so that your credit card company chooses the exchange rate. Enter your credit card details and done!

Contact us if you are having issues - send screenshots (without your credit card details showing!) so we can better help.
Share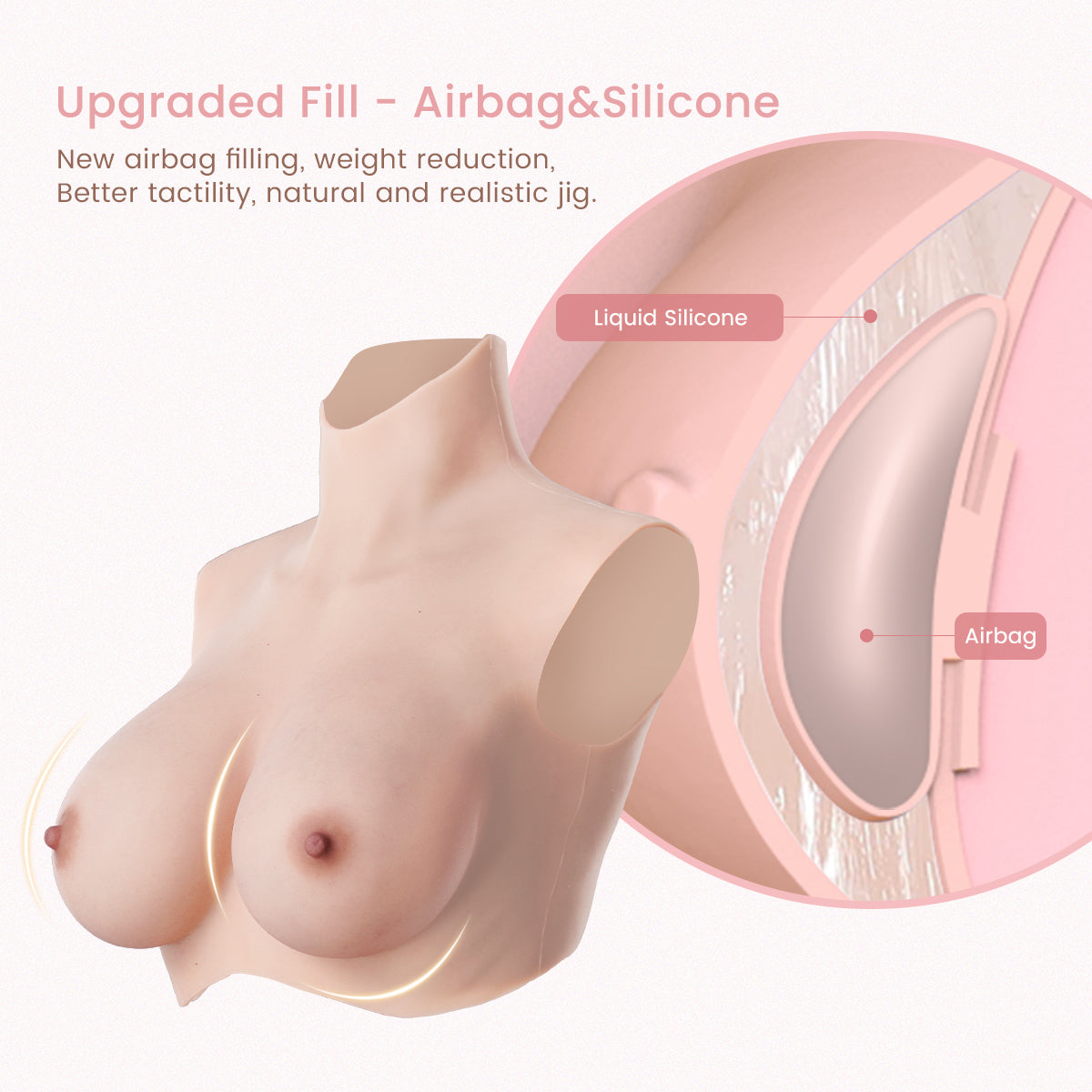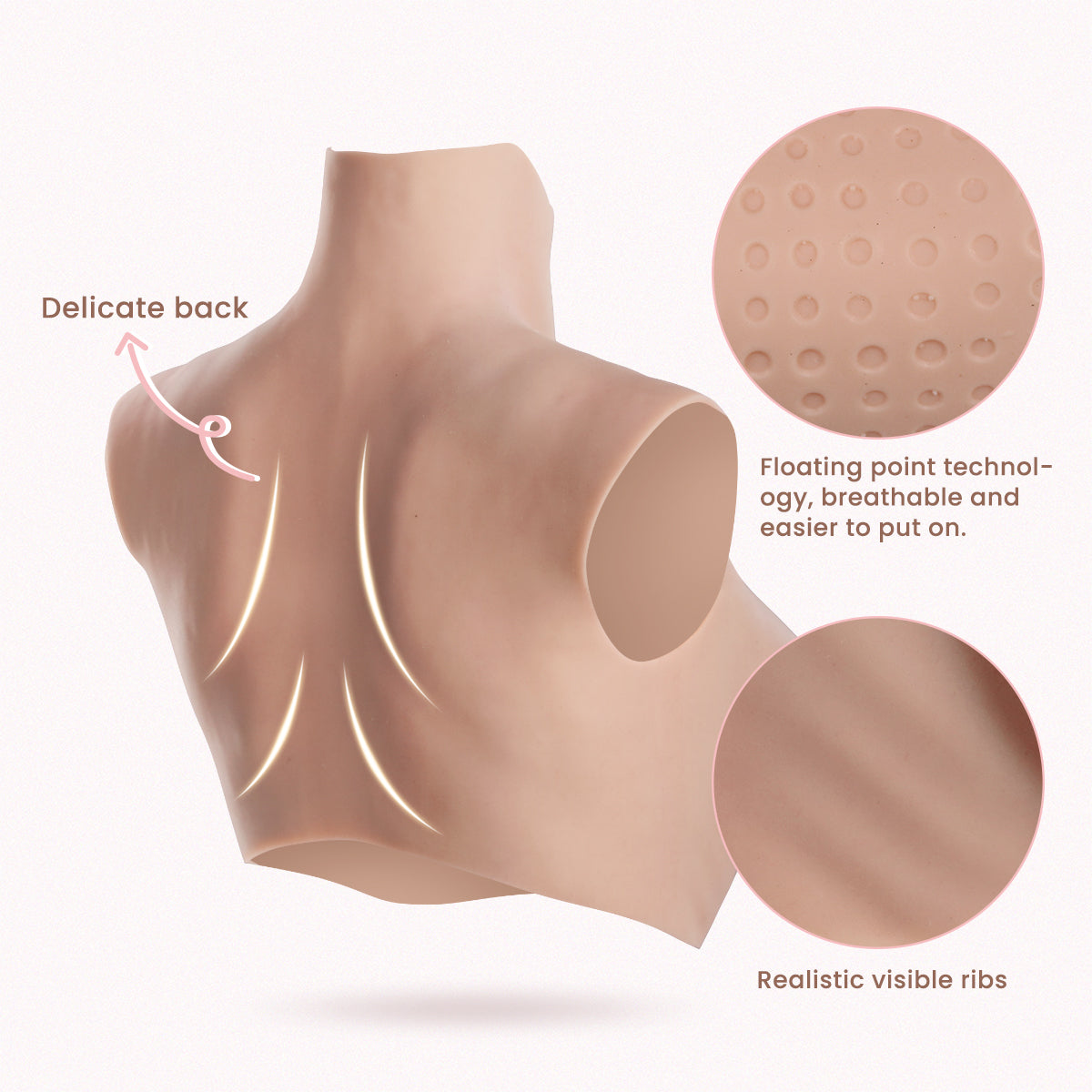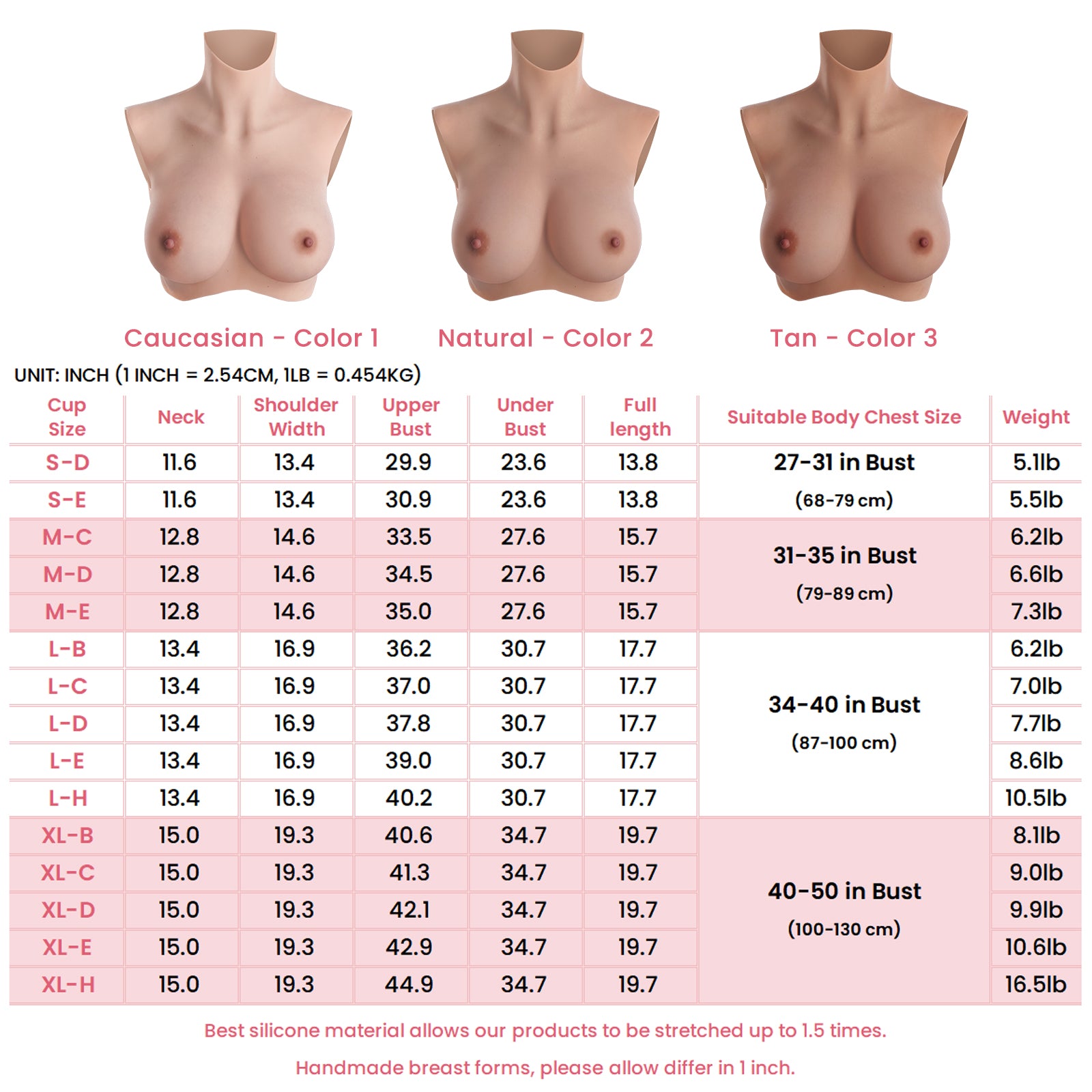 The 8th generation of prosthetic breast production process is comprehensively upgraded, with new airbag filling design and lighter breastplate; bionic breast structure design, which feels more realistic. Widely recommended for crossdresser, trangender, shemale, ladyboy, drag queen, mastectomy, cosplay, transvestism or male to female.
Key Features:
Multiple Sizes: Choose from four sizes (S, M, L, XL) to accommodate various body types, ensuring a perfect fit for everyone.
Enhanced Comfort: Our upgraded floating point design enhances breathability, offering a secure and comfortable fit for extended wear without causing discomfort or excessive sweating.
Premium Silicone Material: Crafted from new medical-grade silicone, our bra is not only durable but also tear-resistant, providing long-lasting support and comfort.
Skin-Friendly: Free from oils and non-sensitive materials, our bra is environmentally friendly and gentle on your skin.
Realistic Feel: The frosted texture offers a lifelike, skin-like sensation, making it feel like a second skin.
Innovative Airbag Filling: Experience a lighter and more comfortable fit with our new airbag filling, reducing the overall weight and enhancing your overall comfort.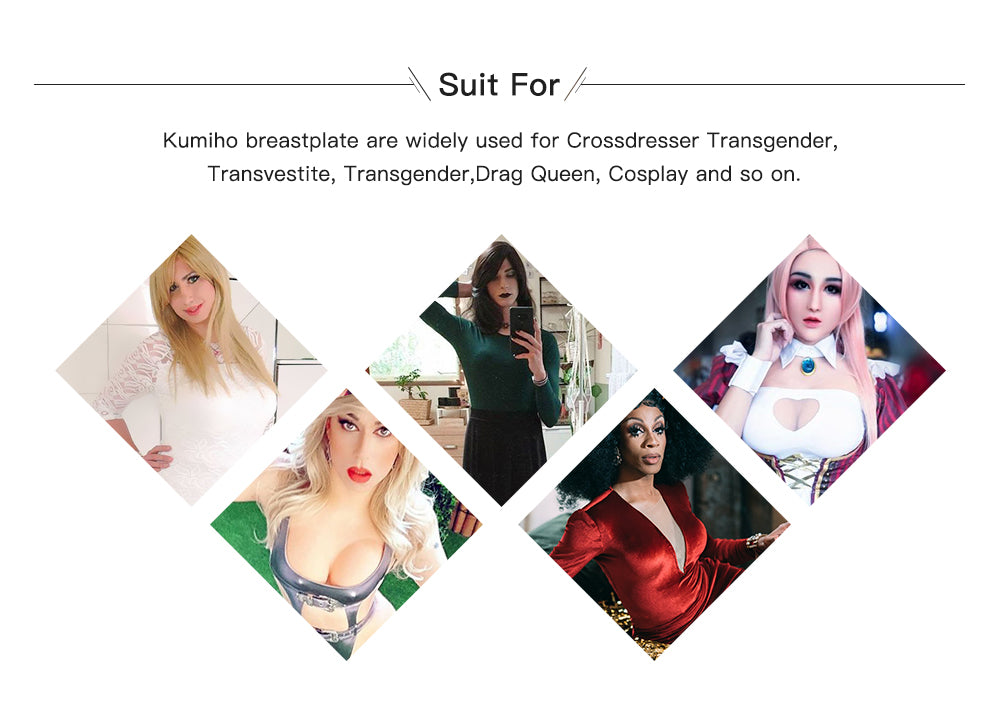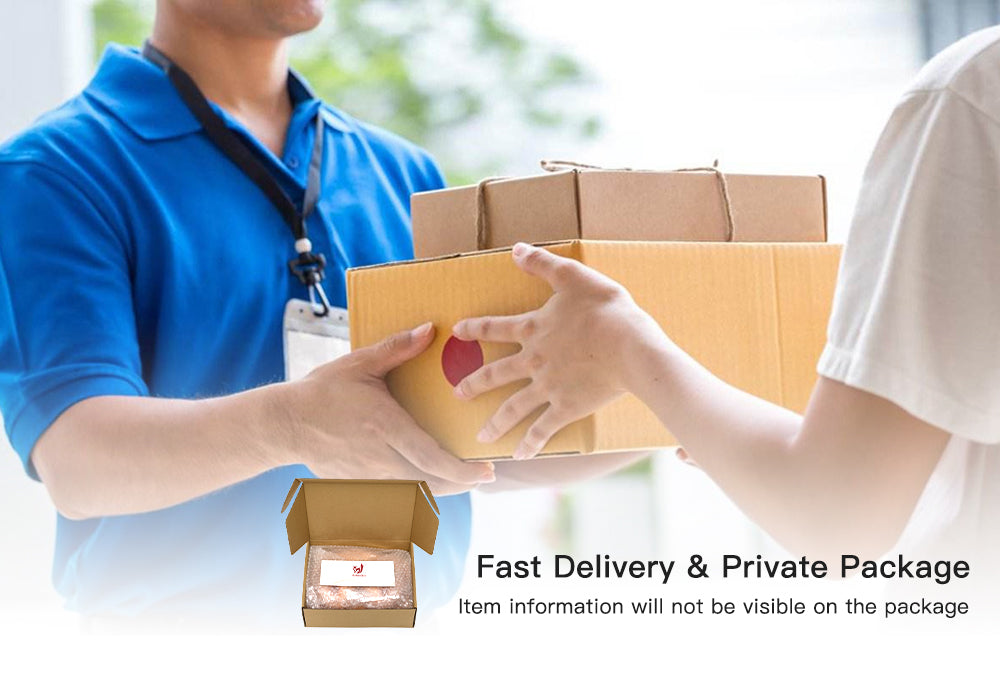 Size:
Our silicones are very elastic and easy to stretch. They can be stretched to 150% without damage. Each size is suitable for different people. As long as it is not pulled hard, it is not easily damaged. Be sure to read the size chart to choose the right size. If you are not sure which size will fit you best, please leave us a message (Email:kumihocrossdress@gmail.com) about your measurement(weight, height, neck circumference, chest circumference, size of the cup you want to reach) We will recommend a suitable size for you after receiving information from you.
Color:
Caucasian - Color 1, Natural - Color 2, Tan - Color 3
The bigger the number, the darker the color.
KUMIHO silicone breast the longer you use, the better close to your real skin color.
If you want the deeper color, please contact us.

Maintain :
·Clean them in lukewarm water with mild soap, air-dry or with towel gently.
·Keep away from hot temperature, sunshine, sharp pointy things, washing machine, chemical material.
·To avoid discoloration of other clothes, do not clean the products with other clothes.
Note!
·This product is easy dyeing. Therefore, do not wear faded clothes or jewelry. Artificial dyeing is not refundable.
·Every product is hand made with many procedures by our artists, so it is inevitable to have some tiny difference in size. And we need 3-5 days to prepare the product after your payment. 
·Remember to read the instructions carefully before using!
Shipping:
For shipping information, please click on 
here
.
YOUR PERSONAL INFORMATION WILL BE KEPT COMPLETELY CONFIDENTIAL
Returns:
For information on return and exchange, please click on 
here
.
Love them
I was concerned that their size would make putting them on difficult, but they are easy peasy
Just powder the inside first and no issues
I love how they look, jiggle, and compress a bit for those push up bras
Gina
This is my second torso from Kumiho. It is the latest generation breastplates with a much more detailed touch. Looking close, the surface is more skin-like and they even add blood veins to make it even more realistic. The color 1 seems to match my own pale skin tone better on this latest generation, rather than the previous older one I bought a couple of years ago.
Thank you very much for a very nice pair of boobs! 🥰
By far the best product i have ever bought. Very realistic, finally matches my body. i have a big size body weight over 100kg. the XL-E is well fitted to me. i can't wait for cos playing with different outfits. thank you very much.
Super Produkt
bin sehr zufrieden mit der Brustplatte, sieht toll aus und lässt sich sehr gut über den ganzen Tag tragen. Kann ich nur jedem der so etwas sucht weiter empfehlen.